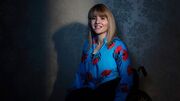 The youngest Lyons, spirited, sharp, born with spina bifida. Single mother to Lee and Lincoln, by two different dads. Works as a chef manager in a local comprehensive school.
She's great fun and binds the family together, but Rosie will never forgive her dad for walking out on the Lyons family when she was young.
Played by Ruth Madeley.